Team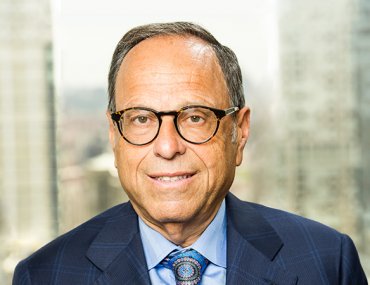 Allen Gross, Chairman & CEO
Allen Gross, Chairman & CEO of GFI Capital Resources Group, brings over 40 years of real estate expertise to the company. In 1978, Mr. Gross started as a real estate transactional attorney and soon established a neighborhood mortgage banking business while seeking opportunities to rehabilitate under-performing multifamily assets. This later became the foundation for GFI's property management portfolio which currently manages close to 16,000 residential apartment units throughout the country. In 1979, Mr. Gross started focusing his attention on developing and converting various condominium and cooperative projects.  His ability to maintain strong lender relationships has enabled Mr. Gross to also be a driving force in the commercial sales and finance markets. Among his many accomplishments includes the development of the Ace Hotel New York, a 275-room boutique hotel that was internationally praised by publications such as The New York Times and Wallpaper Magazine, as well as winning a coveted award for best boutique design hotel from Interior Design magazine. Allen's main emphasis has been on creating value in any project he's involved in; which includes neighborhood revitalization. Mr. Gross's most recent strategic development was The Beekman Hotel & Residences in downtown Manhattan. This unique, historic structure, together with an adjacent site, has been converted into a luxury hotel consisting of 287 guestrooms and 67 residences and has become a catalyst in the revitalization of lower Manhattan with its close proximity to major landmarks including the new One World Trade Center (Freedom Tower) and the New Fulton Street Transportation Center. The Beekman Hotel has been featured in many elite publications including The New York Times, Wall Street Journal, Hotels Magazine, and Vogue. The Beekman has received multiple awards including Travel & Leisure Magazines, "Best Hotels in New York State," and Trip Advisors "Best 5 Star Hotels In New York City 2017." Mr. Gross is not only an established entrepreneur, but also serves his community by guest-lecturing at universities, real estate symposiums, and various other organizations.
Eric Bass, Executive Vice President & Project Manager
Eric Bass is a 30-year hotel industry veteran and joined GFI in 2012.  Eric is responsible for the group's Development Management efforts. Prior to joining GFI Hospitality, LLC, Eric served as Senior Vice President, Development for Morgans Hotel Group for 14 years where he directed the development activities of their portfolio including prominent lifestyle properties such as the Hudson, Royalton, Morgans and Mondrian SOHO in New York City; Delano, Shore Club and Mondrian South Beach in Miami Beach, Ames in Boston; Mondrian LA in Los Angeles; and St. Martins Lane and Sanderson in London. Eric has also served as the Owners Representative/Development Manager of The New York Palace Hotel where he directed the $120 million full renovation and repositioning of the hotel into a 5-Diamond property and has held various positions in senior management with Global Hyatt, The Plaza Hotel in New York City, and Doral Hotels and Resorts. Eric holds a Bachelor of Science degree from the Cornell University School of Hotel Administration
Andy Ashwal, Vice President & Senior Asset Manager
Evan Gaines, Development Analyst
Mr. Gaines is a Development Analyst with GFI Development Company where he is primarily responsible for underwriting, analyzing, and modeling transactions. He provides transactional and analytical support to the entire development team concerning acquisitions, dispositions, capital raises, project management, and asset management. Prior to joining GFI Development Company, Mr. Gaines was an Investment Banking Analyst at Hammond Hanlon Camp (H2C) in New York. During his tenure, he was a member of the firm's healthcare real estate group, where he provided transactional and analytical support to senior bankers on a variety of real estate, M&A, and capital market transactions.
Mr. Gaines graduated with a B.S. in Hotel Administration and a Minor in Real Estate, with a focus in finance and accounting from Cornell University S.C. Johnson College of Business School of Hotel Administration.
Ilya Braz, Managing Director & General Counsel
As Managing Director & General Counsel, Mr. Braz directs all of the day-to-day legal affairs of GFI and its affiliates, including the planning, structuring and negotiation of complex transactions, joint ventures, regulatory and compliance matters and corporate governance. Mr. Braz is a member of GFI's Executive and Investment Committees and coordinates execution of the Company's investment strategies. Prior to joining GFI, Mr. Braz was the Director of Legal Services for Africa Israel, USA, the U.S. subsidiary of Africa Israel Investments, where he advised the company on all legal matters concerning the company's U.S. real estate holdings. At Africa Israel, Mr. Braz played a key role on development projects including: 20 Pine- the Collection, a conversion of a high rise office building in Manhattan's financial district to 409 luxury condominium residences and ground floor retail, the ground-up development of the Marquis, a 67-story luxury condominium and hotel located in downtown Miami and the redevelopment of the Times Square Building. Mr. Braz earned his bachelor's degree, from Clark University, cum laude with honors in Economics, and received a J.D. from Brooklyn Law School.
David Rosen , Vice President & Senior Project Manager
Mr. Rosen has over a decade of hotel and real estate experience, managing over a billion dollars in real estate development and transactions.
 
Mr. Rosen is a Vice President of Development at GFI, spearheading several landmark projects — the brutalist style Ace Brooklyn; the renovation of the beaux-arts James Hotel and Scarpetta Restaurant; the restoration of the Ace New York public spaces, among others. Additionally, he led a 17-acre mixed use development just outside of Kansas City, Missouri.
 
Mr. Rosen previously worked at Gemini Real Estate Advisors acquiring hotels in NYC and Boston, Horwath HTL as a Senior Consultant conducting feasibility studies and valuation for hotels and resorts, and at Oliver Wyman as a management consultant.
 
He received his Master's degree in real estate finance from NYU's Schack Institute of Real Estate and taught there as an adjunct professor for five years. He holds a Bachelor of Arts in Economics from Queen's University in Canada.
Andrew Faulds, Vice President & Senior Project Manager
Zach Zelikovic, Project Manager
Zach Zelikovic joined GFI Development in 2018 as a Project Manager where he is responsible for executing on the business plans of several of the company's ongoing hospitality projects including the repositioning of a luxury hotel in Westchester, and the renovation of a 500,000 square foot lifestyle hotel in Midtown. Zach is responsible for managing all aspects of these projects, acting as the point person between design, construction, asset management, operations, and ownership in order to coordinate all development activities. Prior to joining GFI, Mr. Zelikovic held several roles with both Andre Balazs Properties and Denihan Hospitality Group, where he focused on Design & Construction as well as Openings & Transitions. Most recently, Zach managed the development portfolio for Montparnasse 56, a private real estate company that develops tourist attractions across Europe and the United States. Zach received his Master's degree in Real Estate Development from Columbia University and he also holds a Bachelor of Science degree from Cornell University's School of Hotel Administration where he remains actively involved in undergraduate admissions. 
Stan Spiegelman , Managing Director
Stan is responsible for the day-to-day operations of GFI Development Company. Stan joined GFI Development Company in 2009 and currently oversees the development of multiple mixed-use, hotel and residential projects. This role includes deal structuring, design development and interfacing with project management and construction teams, sales and marketing teams, as well as capital partners, operating partners, and lenders. Stan has been instrumental in the structuring and development of the Beekman Hotel and Residences, the James Hotel NoMad, 470 Vanderbilt, and 144 North 8th Street development projects. Prior to joining GFI, Stan spent several years as an investment banking analyst at a major investment bank. He graduated summa cum laude from Binghamton University with concentrations in finance and marketing.
Klara Lati, Vice President & Senior Project Manager
Klara Lati joined GFI in 2016 as a Senior Project Manager. Klara is responsible for planning and coordinating implementation of complex, ground up and rehabilitation projects, principally by leading a carefully assembled team of third party design consultants and contractors through all phases of entitlement, design development, procurement, construction and project turn over. Key roles include, analyzing construction documents, exploring effective entitlement solutions, overseeing trade procurement, controlling soft cost and hard cost budgets and tracking schedule. Klara brings 15 years of diversified experience in real estate development, construction management and architecture project management. In addition to her role as a Development Senior Project Manager, she is also involved in a consulting project management capacity for Broadway Construction Group. Prior to GFI Development Klara worked for New York based real estate development companies such as Adam America Real Estate, as well as construction companies such as MDG Design and Construction. Before switching to real estate development and construction, she practiced architecture in a New York based firm. Her overall experience encompasses a successful project management record of over 1,200,000 square feet of development. Klara holds a Bachelor of Architecture degree from Pratt Institute. She is a registered architect in the State of New York.
Perry Lorberbaum, Senior Associate